Grad(The Castle) - Trg Svobode(Liberty square) - Svetozarevska ulica(Svetozarevska street) - Lent - Vodnikov trg(Vodnik square) - Strossmayerjeva ulica(Strossmayerjeva street) - Mladinska ulica(Mladinska street) - Trg generala Maistra(General Maister square)

Svetozarevska street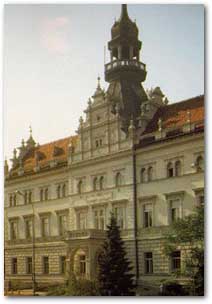 From the Square we turn south along Svetozarevska ulica. At one time, the Scherbaum mill occupied number 6. It then served from 1937 to the 1970s as the Maribor Printing House, until the firm moved to its new premises in the southern part of Maribor. Svetozarevska 14 houses the editorial and administrative offices of the newspaper Vecer. In addition to the daily newspaper they also publish two weeklies, with special editions, and a monthly journal.
The Narodni dom(National Home), is located at the intersection of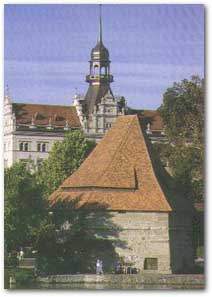 Svetozarevska and Kneza Koclja ulica. In 1899 it was erected by Slovenes with the funds provided by the Maribor Savings Bank. It was designed by the Czech architect Jan Vejrych. This impressive, palatial building was the centre of economic, political, and cultural activities: Slovanska citalnica (The Slavic Reading Club), The Theatre Society, The Public Library, The National Museum, The Library of the Historical Society for Slovene Styria, and other such groups were centred here. In 1918 the National Council for Styria held its meetings here.
From the Narodni dom (National Home) we cross the street and descend to the Drava and Vodni stolp (the Water Tower) [18], a Renaissance pentagonal tower dating from 1555, and standing solitary at the foot of the Drava. The Tower was outside the town wall, but connected to Zidovski stolp (the Jewish Tower) by a bridge.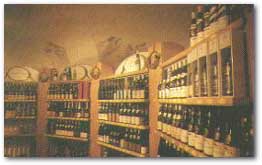 The Water Tower has since been converted into an attractive wine cellar, where a variety of choice Slovene wines can be sampled and purchased.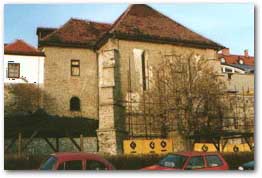 From the Tower one can enjoy a rewarding view of the medieval synagogue with its buttresses, and of the Jewish Tower. In fact, this renovated district retains the most authentic part of medieval Maribor.

---