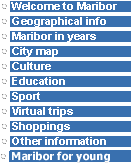 Grad(The Castle) - Trg Svobode(Liberty square) - Svetozarevska ulica(Svetozarevska street) - Lent - Vodnikov trg(Vodnik square) - Strossmayerjeva ulica(Strossmayerjeva street) - Mladinska ulica(Mladinska street) - Trg generala Maistra(General Maister square)

Lent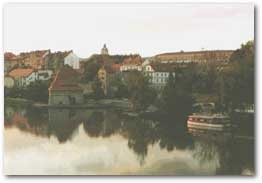 Usnjarska ulica (Tannery Street) runs along the Drava. Its name reminds us of the leather and tannery workshops that once stood at the wall and along the river. Usnjarska ulica turns into Vojasniska ulica (Barracks Street). The entire district, up to the Round Tower, is known as Lent, a former docking pier for covered barges and rafts. It was a lively and picturesque area, surrounded by warehouses, trading houses, pubs, and inns. When the Drava was dammed up in Melje in order to direct its waters through the channel to the hydropower station in Zlatolicje, the water level became elevated enough to threaten Lent, already economically depleted by the electric power stations on the Drava river which had put an end to the rafting business on the Drava. At one time, as many as a thousand rafts and eight hundred covered barges moored there. On the river, many boats laden with fruit used to dock. The famous inn "Benetke" (" The Venice"), now but a memory, stood nearby.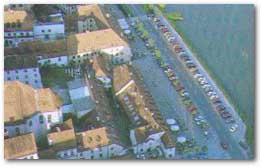 In the 1980s long-needed renovations were begun in the Lent area. Old buildings are being made habitable, architecturally innovative new housing and business facilities are being constructed. A new heartbeat is being felt in Lent, with its small pubs, coffee bars, smart shops, art galleries, crafts workshops, and various businesses.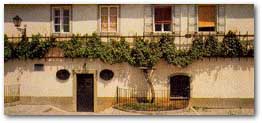 Among all this activity one finds the attractive restaurant Stara trta ("The Old Vine", Vojasniska 8), scenically located on the river bank. Aside from its noted ambience, its most interesting feature is a large fourhundred-year old vine on its facade which, interestingly, still bears grapes every autumn. Along Vojasniska ulica, next to the Drava, we reach Okrogli stolp (the Round Tower, also called the .- Monastery Tower.)[19].whose origins date back to the fourteenth century. In 1540 it took its present shape. On its eastern side is a building complex once occupied by the Minorite Monastery (20), first mentioned in 1270. The former Minorite Church, which fell into disrepair when Emperor Franz Josef II disbanded the monastery is on the upper terrace, along Vojasniski trg. For the past two centuries it has served as a storehouse.

---