Grad(The Castle) - Trg Svobode(Liberty square) - Svetozarevska ulica(Svetozarevska street) - Lent - Vodnikov trg(Vodnik square) - Strossmayerjeva ulica(Strossmayerjeva street) - Mladinska ulica(Mladinska street) - Trg generala Maistra(General Maister square)

Strossmayerjeva street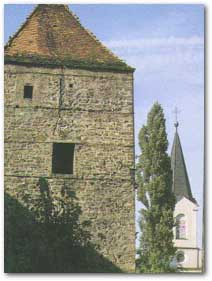 Leaving the food market, we head north along Strossmayerjeva ulica. Close to where it intersects with Smetanova ulica we find the Faculty of Technology; to our right there is a group of several secondary technological schools.
Across Gosposvetska cesta at number 4, is the secondary humanistic school. Once it was a teacher training school run by nuns. Their nunnery and a chapel were located at the intersection of Gosposvetska cesta and Strossmayerjeva ulica. The nunnery and the chapel are now in disrepair.
Ten metres to the east, Gregorciceva and Strossmayerjeva ulica intersect. Here we see an almost square stonegabled roof tower situated among modern apartment buildings. It is Tscheligijev stolp (the Tscheligi Tower), named after the famous Maribor beer brewers, the Tscheligis. But the Tower has less pleasant connotations: it is also known variously as Crni stolp (the Black Tower) [22], the Law Tower, the Torture Tower, or the Strong Tower. It was built around 1460-1465. Of the former five towers of the northern town wall, it alone remains.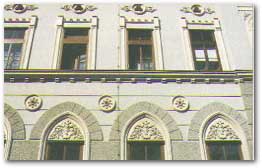 Within a few more steps, at the corner of Gregorciceva and Gledaliska ulica, we encounter the renovated Restaurant Gambrinus, named after the legendary King Gambrinus of Flanders, who, so the story goes, was the first to brew beer. Let us return to Strossmayerjeva ulica.

To its west is Ljudski vrt ("The Public Garden"), a sports and recreational centre [23]. This spacious area was once a graveyard, then a park, with the Langer Villa (which still stands, but now housing a restaurant and offices of various sports associations under the name of Branik, at Mladinska 29), as well as a military training area.
---
©Rain