Grad(The Castle) - Partizanska cesta(Partizanska street) - Ulica talcev - Presernova ulica(Presernova street) - Partizanska cesta(Partizanska street) - Kidricev trg(Kidric square) - Tomsiceva ulica(Tomsic street) - Mestni park(Town Park) - Trg generala Maistra(Maister square)

Tomsic street
From the main railway station to the park leads a long chestnut treeway, which was planted in the 19th Century.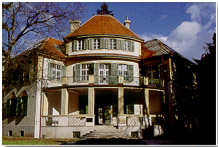 In the years of 19th and 20th Century people built here the most beautiful villas and there owners were rich and famous people of Maribor. Above the villa quarter there stands a Piramida Hill. The visitors can have a wonderful view from there to the whole city of Maribor. From the Piramida you can see the River Drava in its most beautiful reflection. To protect the Karantania from the Turks the duke Bernhard Spainheim built a castle on Piramida in 12th Century. Later the castle burnt down and today there stands a chapel to its memory on that same place.
The chapl is still a very well known trip-spot for people living in Maribor.
---