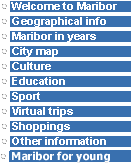 Grad(The Castle) - Partizanska cesta(Partizanska street) - Ulica talcev - Presernova ulica(Presernova street) - Partizanska cesta(Partizanska street) - Kidricev trg(Kidric square) - Tomsiceva ulica(Tomsic street) - Mestni park(Town Park) - Trg generala Maistra(Maister square)

Ulica talcev
At the trafficlight intersection, we head along Ulica talcev, past the Health Centre, at number 9, to the Court Palace (its entrance is from Sodna ulica 14). It was built in 1902. Adjacent to it is the court prison house, and along its western wall, which closes the courtyard, is the impressive Monument to the Hostages, that is, those patriots from Maribor and occupied Styria taken by the Germans during the World War II occupation and summarily executed. The monument was designed by the architect Jaroslav Cernigoj. In the centre of the monument is a large granite tablet, inscribed with the names of 667 hostages. Above it are the verses of Branko Rudolf:
You fell with horror in your eyes;
Killed behind these walls,
You fell with faith in our cause;
May you never fade from our memory.
---